Let's Get Ready to Snuggle Part II
I wanted to title this: you guys! I started a blog! but then I realized how ridiculous that sounds cuz a) it's not 1999 and b) do people even still blog anymore? not to mention c) the word blog is just really unattractive in itself. So you will find me calling this space all kinds of weird things, except blog.
But truth is- we did start a little writing platform here (see i just did it right there, 'writing platform'). And by "we" I mean my dear friend Amy. If you haven't read yet how this came to be- see previous post, but I also wanted to explain a bit from my perspective how we landed here.
It's one of those things that you don't see until you can look back and know that the puzzle pieces came to be just as they were supposed to. When I got laid off from my advertising job in 2009, I couldn't see at the time that it was a gift that would force me to follow a passion I forgot I had. 2 years later, a lost love for textiles and pattern all came together in the form of throw blankets made from recycled cotton and a business called 'Happy Habitat' was born. A soft piece of art that also had a purpose of keeping you warm became a canvas, a love and provided a living for me that 8 years later I am still as passionate about as the day I started.
Besides things like: design, composition, texture and color theory- I've come to realize over the years that a throw blanket provided more than just those things to me. It's also protection and shelter. It's warmth when I'm not just physically cold, but when I'm mentally blue too. So with this notion - it has opened the door to explore all things warm- and I am now taking a scary and vulnerable step to do it out loud and share the warmth in other ways in addition to blankets.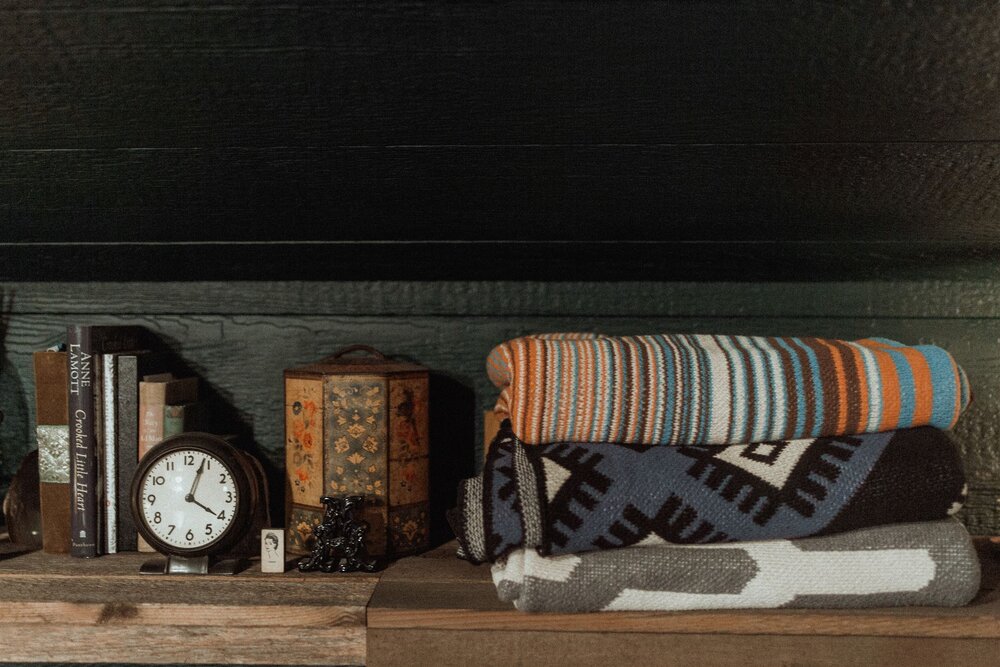 How will you know who is writing? Well besides there being an author listed, Amy's posts are organized and clever and concise and have a clear train of thought and are usually written like a story- there's usually a beginning and end a bit of climax and something to tempt you to keep reading. My thoughts are all over the place, blunt and to the point but you may be left still wondering what the point was.
So what can you expect to find here? All things cozy- things that warm your mind, body and soul. I knew we were on to something when the future topics include: fireside cocktails, mental health, also sexual health (Amy doesn't know about that one yet), interesting interviews with friends/designers about how they stay cozy, among other more obscure topics we have yet to flesh out. (Amy would probably never use the phrase 'flesh out' because it's just gross.) (She also doesn't overuse parenthesis like I do.)(She also uses correct punctuation and capitalization.)
I'll also tell you what you won't find here: affiliate links, me selling you shit for a profit (unless it's my throws- you know I'm totally going to find a reason to throw a throw in any time I can- it's just my nature, it's what I do! Plus girls gotta make a buck and it's fun for me to challenge SEO and algorithm stuff!) Other than that- words and opinions are mine or Amy's- just sharing our thoughts.
So— thank you for being here. If you have any suggestions for topics you'd like to explore, send them my way!
-karrie
all photos by jacob loafman
---